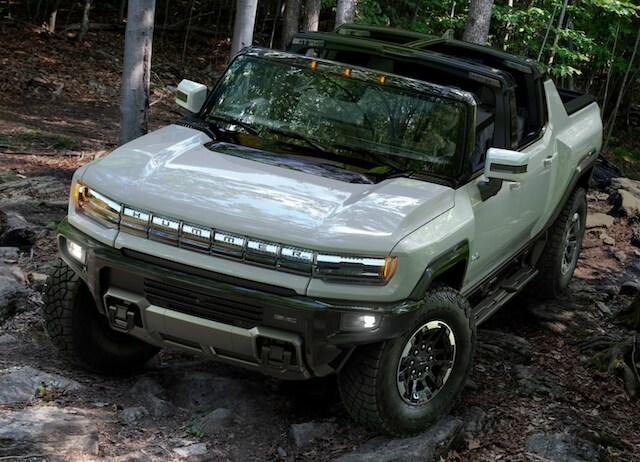 The World's First All-Electric Super Truck HUMMER EV
The HUMMER EV is the world's first all-electric super truck. It will change the way the truck companies manufacture their vehicles forever. The HUMMER EV generates the power and technology to conquer the off-road with extraordinary confidence. This truck will leave the competition in the dust. With a starting price of $79,995, this truck is worth every penny. See what makes the HUMMER EV extraordinary.  
Advanced Technology & Safety
The future is here with the HUMMER EV. It is filled with technology and safety features, unlike anything we've seen before. For example, it is fitted with Ultravision with Underbody Cameras. It has up to eighteen available camera views with waterproof underbody cameras that provide real-time views and allows you to see under the vehicle. They're forward and rear-facing and strategically placed low enough to see beyond the skid plates. Also, the underbody cameras include a wash function and replaceable lens protectors. This will create an off-roading experience unlike any before. The HUMMER EV is also fitted with a supercruise mode. This allows you to have hands-free driving and automatic lane changing on more than 200,000 miles of compatible roads and to grow. The interior is also fitted with a 12.3-inch driver information center and a 13.4-inch digital touchscreen to control all vehicle settings. 
Performance Unlike Any Other
The HUMMER EV is technologically advanced and has performance aspects that are out of this world. To start, the HUMMER EV has a 0-60 time of approximately 3 seconds, with an available 1,000 HP. Not only is it fast, but it also has extreme off-roading capabilities. With its new extract mode, it can change suspension height to climb any obstacle in its way. To help the off-roading ability, it is also fitted with four-wheel steering to increase the turning radius. It also has dynamic suspension to lower the vehicle's center of gravity, enhancing the aerodynamics. The HUMMER EV has an estimated driving range of 350 miles and can charge nearly 100 miles in ten minutes. The HUMMER EV changes the game forever. If you have any questions or concerns, feel free to reach out and ask.